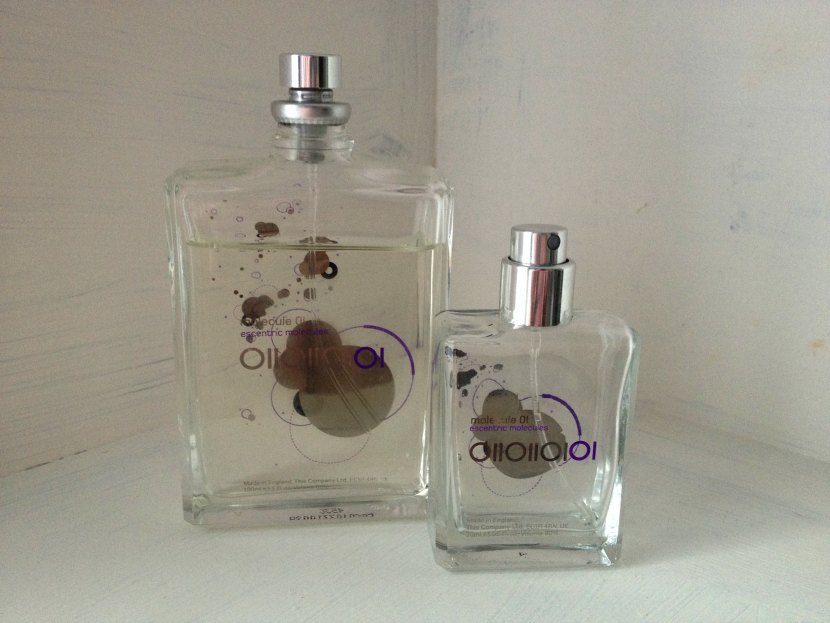 I'm a fiend for perfume and, if you've read my
new years resolutions
, you'll know that I've been hunting for a signature scent. I can't say for sure that I've found it just yet but I've been tantalising my nose with various different perfumes and stumbled across this amazingly unique fragrance from Escentric Molecules. Molecule 01 has been raved about over the past 12 months, gathering a following and slowly making it's way into the realms of 'cult product'. I ordered the travel size bottle from Cult Beauty having never smelt it before and have been hooked ever since - I'm now the proud owner of the 100ml version with a plan to purchase a back-up as soon as my next pay day rolls around.
The beauty of this fragrance is that it smells different on everyone. No two people will smell the same whilst they wear this. Developed by a rising star of perfumery, the scent only contains one molecule which adapts and changes with individual wearer's pheromones. It initially smells fairly woody but dies down to reveal the unique scent fairly quickly. Personally I find it strikes down on the more musky side on my skin but on my sister it smells more citrus. The wear time is average for a perfume but it sticks to cloth very well and therefore I can still smell it when I put my coat on, having sprayed this the day before. It layers with other perfumes well too - I have my eye on combining it with Micheal Kors Sexy Amber when my bank balance allows it as, having tried them together, they smell sensational.
I've had compliments galore from wearing this scent. Men, especially, seem to really enjoy it. I described it as 'cat nip for men' on Twitter and I still hold that opinion. Even when I'm at work I have male customers ask me what I'm wearing. My boss also passes comments on it regularly. If you're looking for a new perfume and want something original, different and unique then definitely try to get hold of a bottle of this perfume. I find that Cult Beauty have amazingly fast shipping and can't fault the service I've received from the site so far.
Escentric Molecules Molecule 01
(30ml RRP £27.00 or 100ml RRP £65.50) is available from
Cult Beauty
(free worldwide shipping when spending over £50 - although please note that the site is currently unable to ship this perfume abroad at present).